Career-best British Championship result for Shipton!
Crescent Yamaha's Jake Shipton and Martin Barr were both in impressive form in their opening motos at round four of the Maxxis ACU British Motocross Championship at Blaxhall on Sunday but set-backs in their second races restricted both riders' overall finishes.
Jake was on fire on his YZ450F in the first 25-minute plus two lap MX1 race, moving forwards from a good start to set up a career-best second position, pushing to the maximum in the final laps to finish only 1 second from the race winner and fight off the attacks of MXGP star Tommy Searle who finished third.
Jake was progressing towards the top 5 in race two and looking at a potential 2nd position overall before he was forced to slow dramatically, after hitting the rear of Harri Kullas' machine and damaging his front wheel. Wanting to score points, he battled onwards but the problem drastically restricted Shipton's speed and he crossed the line in 21st position after a valiant effort.
Despite the physical after-effects of a serious road accident in mid-week, against the odds Martin heroically managed a solid third in the opening MX2 race on his YZ250F. Aiming to capitalise on this finish and score good Championship points on a difficult day, unfortunately Martin suffered a problem with his front brake system which took him down and forced him out of moto two.
The team's MX2 Youth rider Bobby Bruce, racing against 250cc four-strokes on his YZ125 two-stroke machine, was fifth in his first moto but an early crash in race two dropped him down to 10th, for a solid seventh overall. Jake, Martin and all at Crescent Yamaha would like to extend our best wishes for a speedy recovery to fellow Yamaha rider Ryan Houghton, who was involved in a serious accident at the start of the red-flagged first race.
"That's my best-ever result in the British Championship and I only lost out on the moto win by 1.2 seconds so I'm really happy. I think it's fair to say that I was a little bit excited at the end of the race but I was giving everything! I was so happy to be up front and know that I can run that pace for the whole race distance.

"About two laps into race two I shunted into Harri's bike on the wall jump face, twisted the front of my bike and that was all she wrote. I carried on riding but I had a couple of sketchy moments and was losing the front everywhere. It was a good and bad day but that's the highs and lows of motocross for you, but overall I'm really happy to be so competitive."
"The day started off not too bad with fifth in qualifying which gave me a decent gate pick and I wasn't too stressed, despite not feeling very good physically.

In race one I got a little bit too much wheelspin off the concrete which gave me a lot of work to do but I kept chipping away and got up to third so all things considered I was quite happy with that one.

Race two I made a lot better start but lost a few positions in the second corner and then we had a problem with the front brake which kept locking on which caused me to have a little crash.

It's disappointing to have a DNF and I've lost a lot of points in the championship which I'm not happy about but there are a fair few races left to go and I'll keep working hard."
"I had a decent start in the first moto and got a fifth but unfortunately I crashed on the first lap in race two and couldn't find a rhythm. It wasn't a bad day but it could have been a lot better!

It's hard work on a 125 two-stroke against the 250 four-strokes around that track, especially off the start, but at the same time shows just how good the YZ125 is."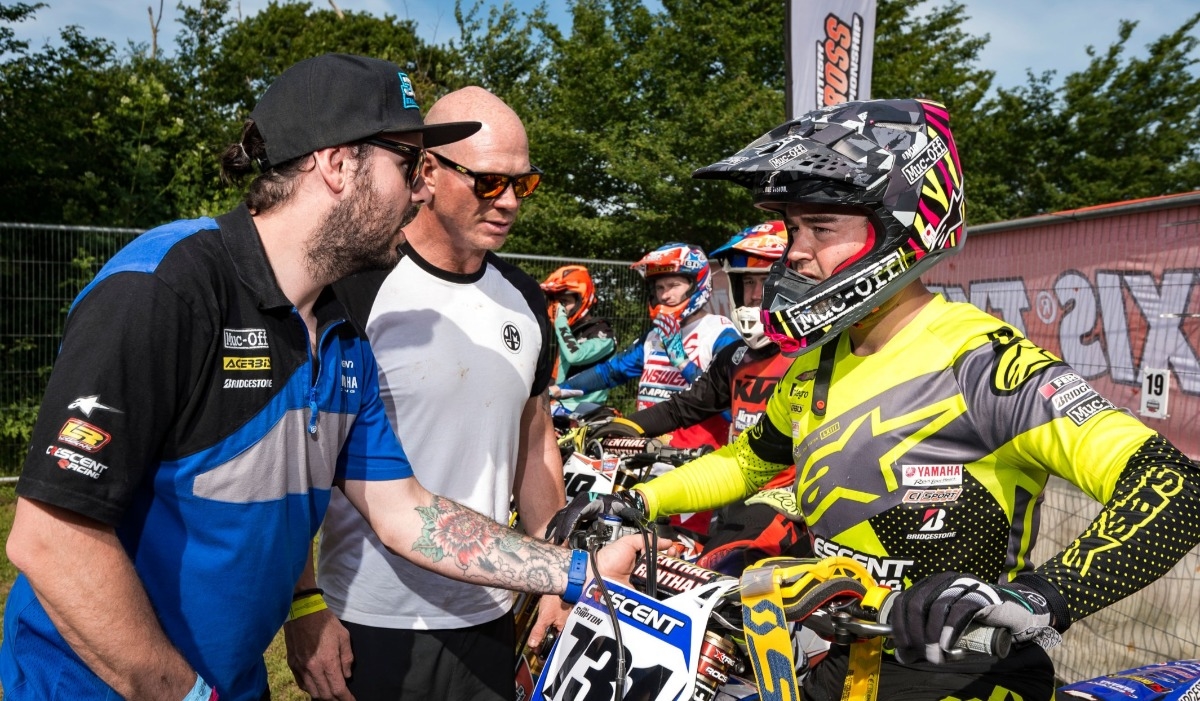 MX1 overall
1 Tommy Searle (BOS Kawasaki) 20+25=45
2 Gert Krestinov (Phoenix Tools Apico Kawasaki) 15+20=35
3 Brad Anderson (Verde Substance KTM) 18+15=33
4 Shaun Simpson (RFX KTM powered by PAR Homes) 14+18=32
5 Mel Pocock (ASA United KTM) 16+16=32
11 Jake Shipton (Crescent Yamaha) 22+0=22
MX2 overall
1 Josh Gilbert (Buildbase Honda) 25+18=43
2 Dylan Walsh (REVO Husqvarna UK) 22+20=42
3 Ashton Dickinson (Craigs KTM) 16+16=32
4 Tom Grimshaw (HCR Putoline Yamaha) 14+14=28
5 Michael Ellis (Pope KTM UK) 12+15=27
12 Martin Barr (Crescent Yamaha) 20+0=20
MX2 Youth overall
1 Ike Carter (GL12 Husqvarna) 22+25=47
2 Joel Rizzi (RFX KTM powered by PAR Homes) 25+20=45
3 Josh Peters (Yamaha) 18+18=36
4 Kyle McNicol (Manchester MC Husqvarna) 20+16=36
5 Dominic Lancett (Verde Substance KTM) 12+22=34
7 Bobby Bruce (Crescent Yamaha) 16+11=27