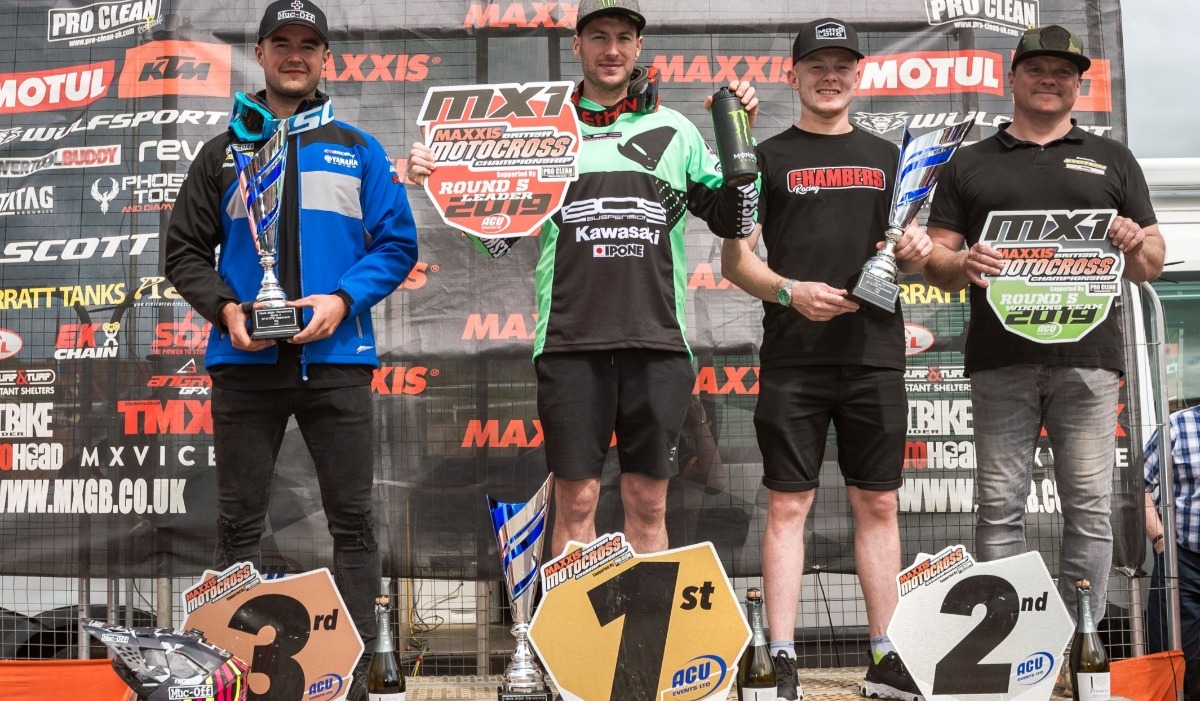 Crescent Yamaha's Jake Shipton raced to a career-first Maxxis ACU British Motocross Championship podium finish in the MX1 class at Desertmartin on Sunday.
Competing in the MX2 class, his team-mate Martin Barr narrowly missed out on a top-three finish at his home round at the infamously tough Northern Irish sand circuit.
Jake started the day well with a fighting fourth in qualification, ending the session just over three-and-a-half seconds down on pole position. After getting a good jump out of the gate in the opening 25-minute plus two lap moto he moved up to third and was looking strong until he was forced to pull to the side of the track to remove a stone from his front sprocket.
The delay cost him valuable time but despite having to discard his goggles he was still able to bring his YZ450F home in fourth.
Another good start in race two saw him circulating as high as second before a crash dropped him down the order but, recovering quickly, his second fourth-placed finish of the day was good enough for him to take third overall.
The result moves him up two places into ninth in the championship with three rounds still to run.
Heading into his home round. Martin's expectations were high and the veteran Irishman posted a solid time for fifth fastest in qualification on his YZ250F and was running third in the opening moto when he lost his back brake and was forced to let the leaders go.
A poor start in race two put him in 10th after the opening lap and despite battling his way up to fourth at the flag it wasn't enough to get on the overall podium and he finished three points shy of the box in fourth overall.
Martin's points total elevates him a position into fifth in the championship chase.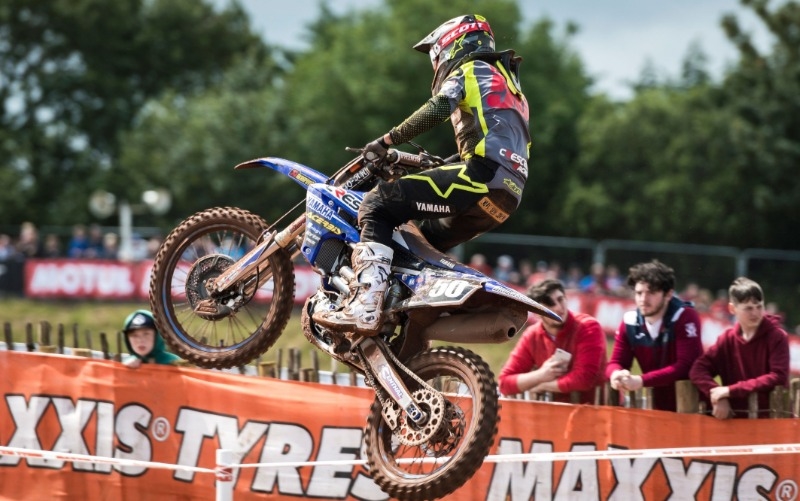 "I'm happy but I'm also a bit upset because I threw second away. I was happy with qualifying – normally that's my weak point, pushing for a fast lap – so fourth was a great result for me and a good start for the day.

"In the first race I got up into third but as I jumped the finish line jump a stone got wedged in the front sprocket and locked everything up. Luckily, I managed to wheel it back and got going in fourth – it probably would have been faster if I'd crashed – and I lost my goggles as well so for the last five laps it was torture.

"The second race felt easy after that. I got a good start behind Tommy Searle and was second for over 20 minutes but with four laps to go I crashed going down a hill. I picked it back up but struggled to get back into a rhythm. My glove was full of sand and I ended up fourth again. I'm really happy to get on the podium but I could have run 2-2.

"The bike was mega and I'm believing in myself. In the second race I was catching Tommy. I went in there with a different mindset. My result at Blaxhall helped massively – I've been building all season and now I feel that I should be up there."
"I'm a bit disappointed not to make the podium but having said that it wasn't a bad day. I didn't get a perfect lap in qualifying and made a few mistakes but I wasn't too bothered and still got a good gate position.

"Just before half-distance in race one I made my way up to third but then I lost my back brake which was challenging and I couldn't push into corners the way I'd like so I had to use my head and settle for the position.

"In race two I messed up the start and got boxed in around the first corner and gave myself a lot of work to do and by the time I got into fourth the first three had already gone.

"It would have been sweet to get on the podium at my home race but it was still good to get two solid results and now I'm looking forward to the final three rounds. I'm the old boy of the class at 31 and still running at the front which is something that I'm very proud of. I've still got that fire in my belly and I'll keep working hard at it."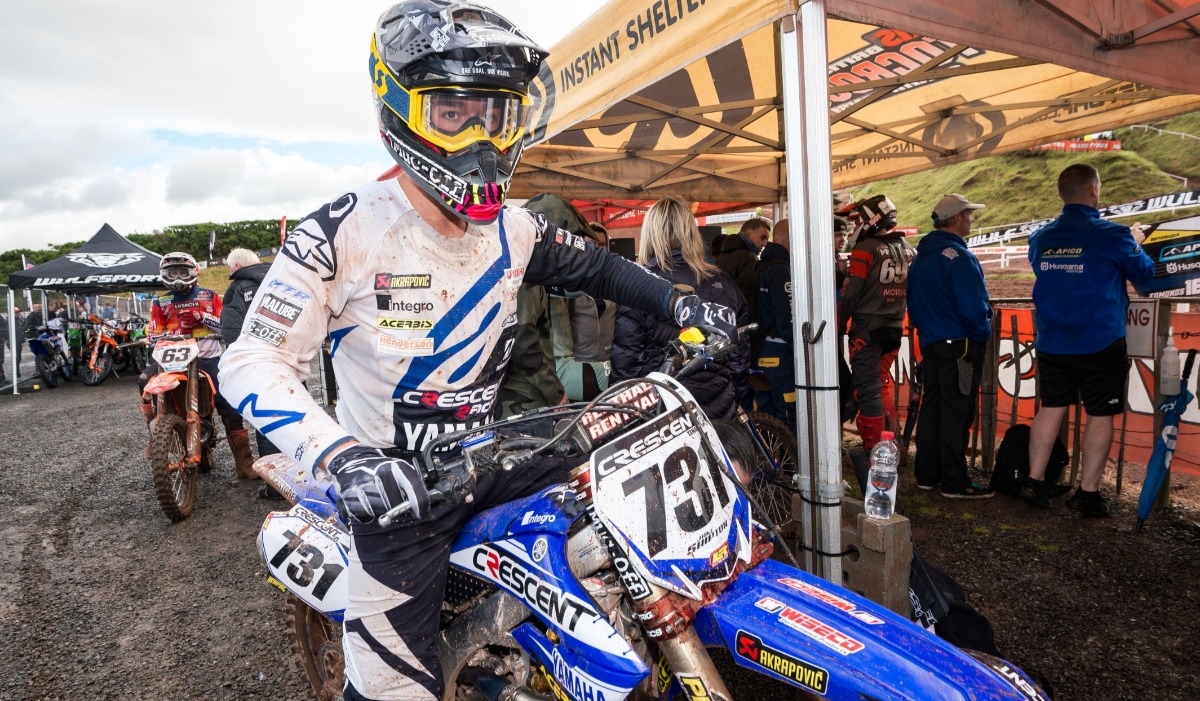 MX1 overall
1 Tommy Searle (KRT Kawasaki) 25+25=50
2 Jake Millward (Chambers Racing Husqvarna) 22+16=38
3 Jake Shipton (Crescent Yamaha) 18+18=36
4 John Adamson (Bikesport Honda) 13+15=28
5 James Dunn (GL12 Husqvarna) 6+20=26
MX2 overall
1 Bas Vaessen (Hitachi KTM fuelled by Milwaukee) 25+22=47
2 Alvin Ostlund (REVO Husqvarna UK) 22+20=42
3 Dylan Walsh (REVO Husqvarna UK) 16+25=41
4 Martin Barr (Crescent Yamaha) 20+18=38
5 Taylor Hammal (RHR Yamaha) 13+16=29