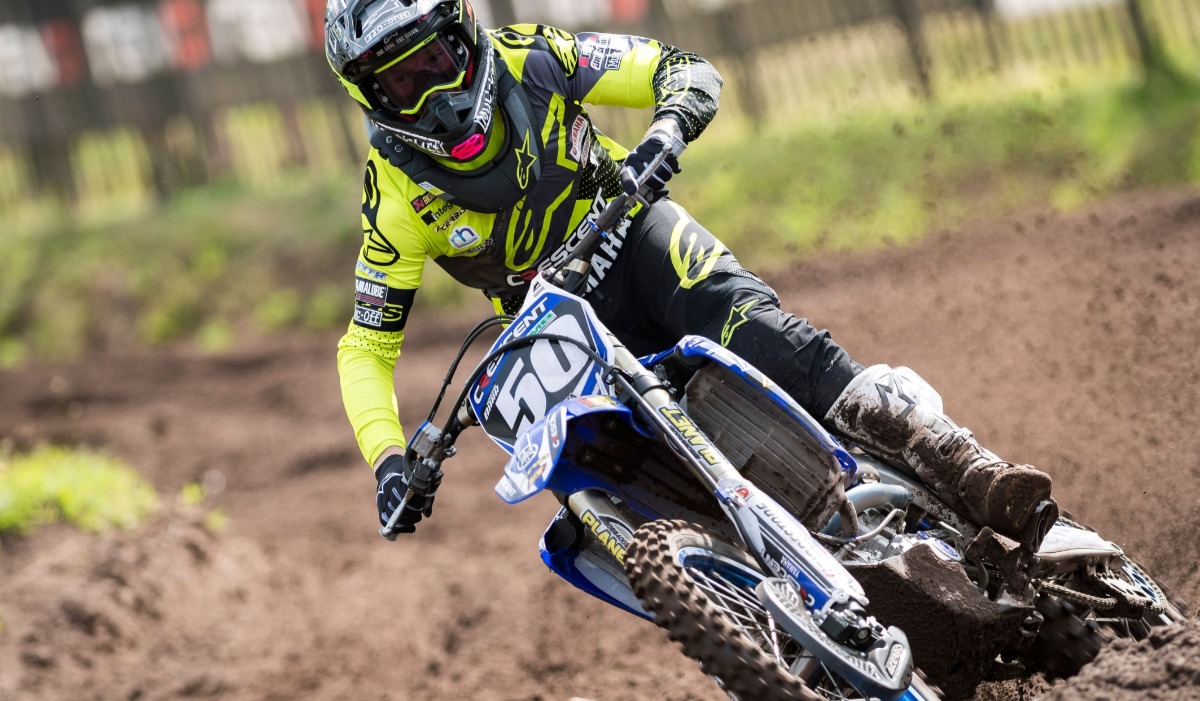 Crescent Yamaha's Martin Barr and Jake Shipton had a tough day at the office yesterday at round six of the Maxxis ACU British Motocross Championship at Hawkstone Park with Martin struggling to get out of the gate and Jake still suffering from an injury. 
Sitting fifth in the MX2 championship on his YZ250F heading into Hawkstone, Martin qualified in fourth just over two-and-a-half seconds off the pole-setter's pace. 
A bad start in the opening moto placed him 13th and after a series of decisive moves in the first few laps, allowed him to advance to fifth. A final pass in the penultimate lap saw him cross the line in fourth just under four seconds behind Josh Gilbert. 
Despite a better start in race two, the veteran Irishman still had a lot of work to do and by the time he'd fought through to fourth on lap four the leading three riders had checked out. Never giving up on the sand track that was faster, firmer and less technical than is usually the case, Martin came home in fourth for fourth overall on the day. 
The result elevates him to fourth in the championship with two rounds to go. 
A qualification crash just seven days earlier at Canada Heights had left Jake with an injured right wrist. Not one to go down without a fight, he bit the bullet and came in at a strong sixth in MX1 qualification on his YZ450F on one of the toughest tracks in the country. 
A solid start off the mesh grid in the opening moto gave him a top-10 position after the first lap and he held seventh for much of the moto before a late pass rewarded him with sixth. Race two was much tougher and after completing the first lap all the way back in 17th he was forced to dig deep. With speeds high, he managed to battle his way through to eighth but his wrist injury came into effect in the closing laps and he dropped to 10th at the flag for eighth overall. 
This result has closed the gap between Jake in eighth and Brad Anderson who sits in seventh in the championship.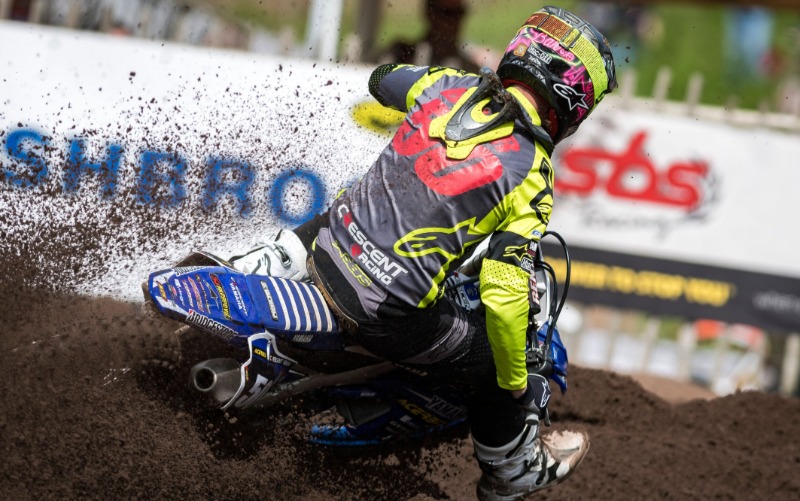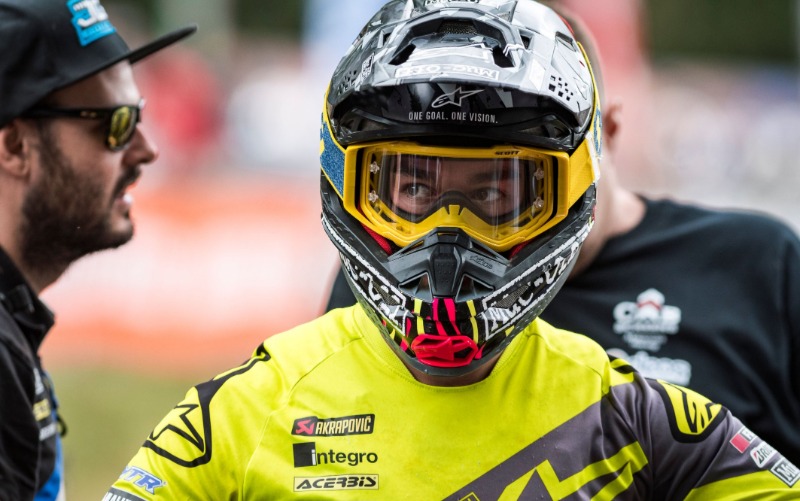 "It's been a frustrating day with very poor starts in both races. In the first race I was outside the top 15 and in the second I was outside the top 12 so I gave myself a lot of work to do and by the time I'd worked my way up to fourth the top three had gone. 

"I think I've got to the stage where I'm just over-thinking it and making things worse so I need to go back to the drawing board with the starts, practice hard and try and get that feeling back which will hopefully make life a bit easier. It's not going to be easy but I'll put myself in a better position. 

"It wasn't your normal Hawkstone. Over the years it's kinda got faster and faster and they've taken all the technical stuff out of it and places where you can make up time but it's the same for everybody. In the last race it got a bit choppy in places but it's not the famous Hawkstone that gets rough and gnarly. 

"The rougher the better for me but I'm not going to make excuses. I was fourth in qualifying and fourth in both races so it was a day of fourths!"
"Today's not been too bad although I'm a little bit disappointed to be honest but considering what happened last weekend it could have been worse. In the first race once I got into sixth I got stuck behind Jake Millward and couldn't make a pass but it was all right. 

"In the second race I had a terrible start – I think after the first lap I was just inside the top 20 – but fought through to eighth and blew myself up a little bit and jarred my wrist so I ended up 10th. It's not so much painful but I struggle with grip – it's a frustrating, niggling little injury – but eighth overall is okay and it could have been a lot worse. 

"Still, having been on the podium last time out it's disappointing but I'm quite chuffed with myself to get through it because I've never really had to ride with an injury like this. If you can't hold on then it's tough but the biggest thing for me this weekend was starts. I just can't seem to get to grips with the mesh. 

"I'm not going to get myself down because I know the speed and fitness is there so bring on the last four races on hard-pack!"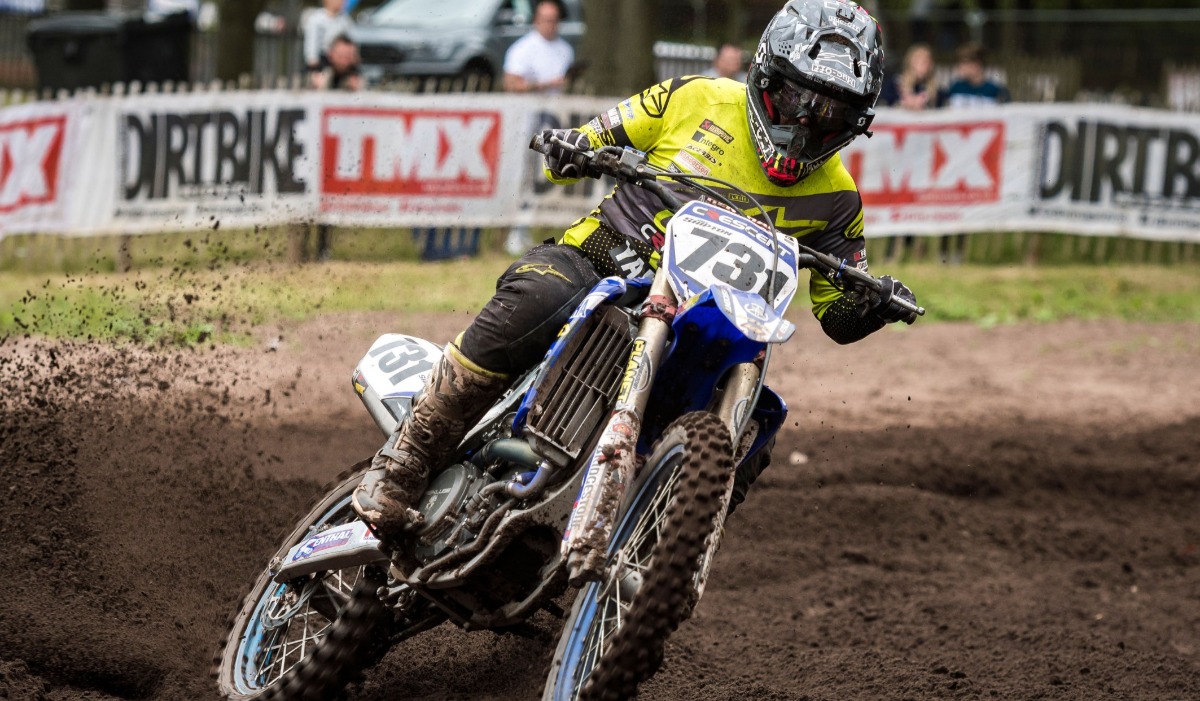 MX1 overall
1 Shaun Simpson (RFX KTM powered by PAR Homes) 25+25=50
2 Tommy Searle (KRT Kawasaki) 22+22=44
3 Harri Kullas (Cab Screens Deos Group Racing Honda) 20+18=38
4 Jake Nicholls (Buildbase Honda) 13+20=33
5 Jake Millward (Chambers Racing Husqvarna) 16+16=32
8 Jake Shipton (Crescent Yamaha) 15+11=26
MX2 overall
1 Dylan Walsh (REVO Husqvarna UK) 25+25=50
2 Alvin Ostlund (REVO Husqvarna UK) 22+22=43
3 Josh Gilbert (Buildbase Honda) 20+20=40
4 Martin Barr (Crescent Yamaha) 18+18=36
5 Ashton Dickinson (Craigs Motorcycles KTM) 15+16=31