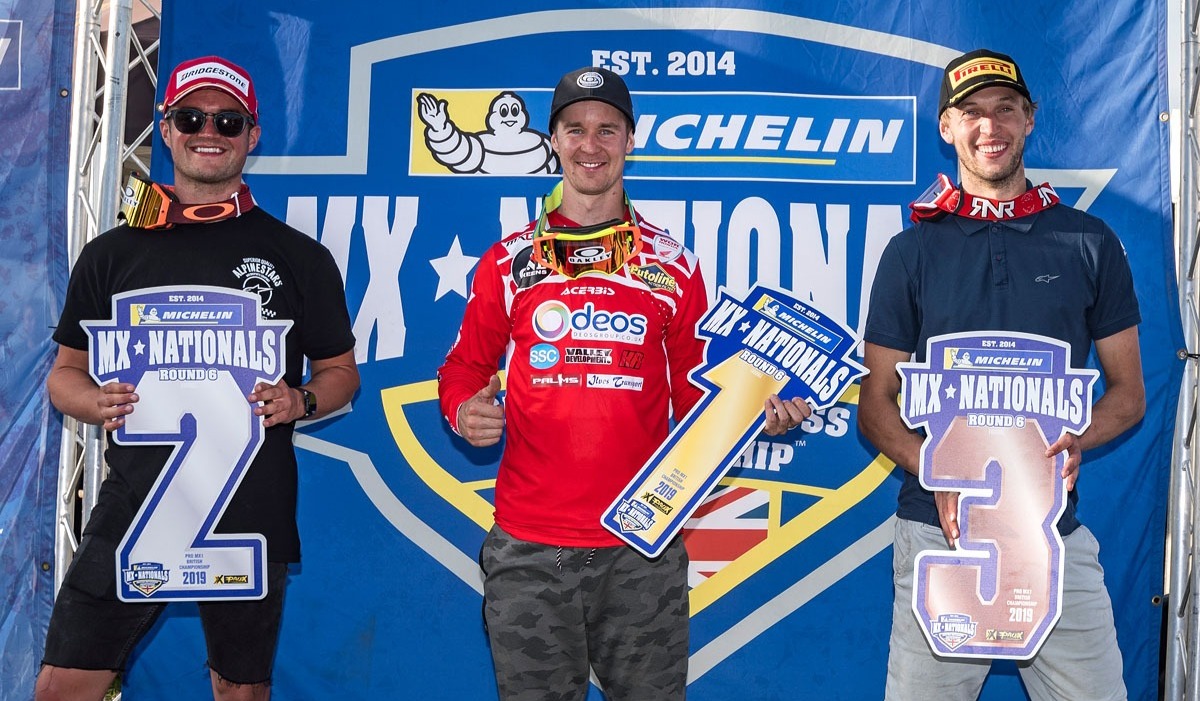 Crescent Yamaha riders Jake Shipton and Martin Barr missed out on a dynamite double podium finish by the narrowest of margins at the sixth and final round of the Michelin MX Nationals at Foxhill on Sunday. 
Jake was in great form around one of his favourite tracks to claim a season-best second overall in the Pro MX1 class but Martin – racing in considerable pain following his operation less than two weeks ago to have a broken collarbone plated – lost out on a tie-break for third overall in Pro MX2. 
Martin was, however, looking at the bigger picture and his heroic performances around the hard-pack former GP circuit were enough to secure second in the Pro MX2 championship by a single point. Jake's score ensured he ended the season fifth in Pro MX1. 
The series' 'Fastest 40 format' runs both Pro classes together in two 25-minute plus two lap races but scores them separately. 
Martin's title hopes ended at the previous round at the end of August when he broke his collarbone but with second overall still a possibility he gritted his teeth and got on with the job on his YZ250F. 
After qualifying in fifth he started well in the opening moto and held an early second in class before slipping back to third which he held to the flag. A slower start in race two forced him to play catch-up but he worked his way through the field to fourth which gave him a hard-earned second in the series. 
Jake also qualified in fifth and then held down third for the entire race-distance in the first moto despite struggling to find a rhythm on the fast, blue-groove circuit. 
Starting third again in race two but feeling more relaxed, he was at the sharp end of the action for the full moto on his YZ450F. After inheriting second place when the leader went out with a mechanical issue at half-distance, Jake then chased 2019 champion Harri Kullas all the way to the line in a thrilling finale.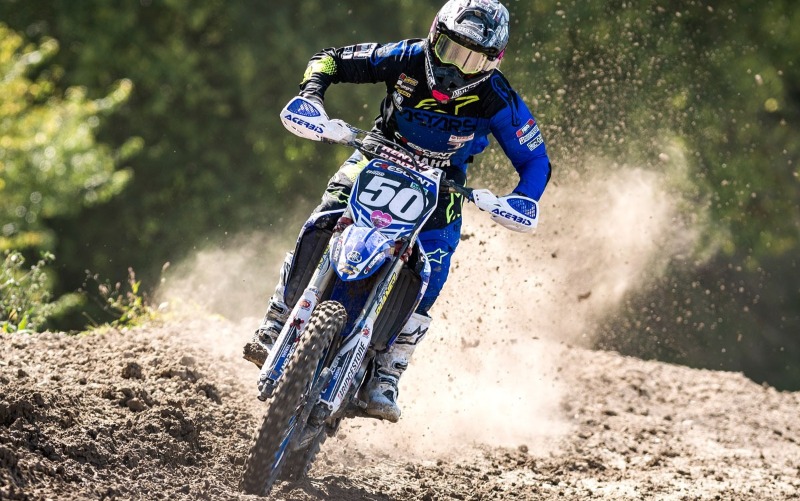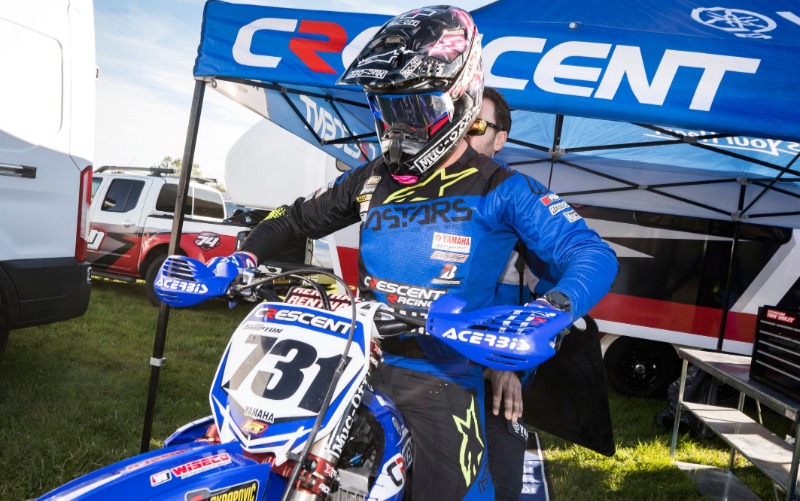 "It's only 12 days since my operation so to even be on a bike is fantastic, let alone at the sharp end. It's very satisfying – obviously, I haven't been able to do any practising and my main goal this weekend was to try and keep hold of second in the championship which I've managed to do.

"The first race I got a decent start and was running second before I dropped to third but I was happy enough with that. In race two I didn't get such a good start but I came through and got up to fourth and that's where I stayed but it was good enough to secure second in the championship by a point.

"I'm over the moon the way the last few weeks have gone. Obviously, I'd have liked to have won the championship but two DNFs after crashing at the previous round and breaking my collarbone put the title out of reach.

"It's the last round of the Maxxis this weekend. I'm currently in fourth and I'd like to get up to third so we'll keep working – I'm not a man to lie down on the job. I put my heart and soul into my racing and I think I've showed that the last couple of weeks by riding through the pain barrier."
"I'm happy with my result. I wish I'd passed Harri Kullas in the second moto but the bike felt mega today and I felt fit and healthy.

"Qualifying went okay – I've been struggling with it for the last couple of weeks so I was pretty chuffed with fifth.

"In the first moto I rode a bit tight and didn't use the best lines or find a decent flow. I also got arm-pump about 10 minutes in so I just rode around in third – that was pretty much it. 

"I got a good start in the second race and was behind Elliott Banks-Browne and Harri and felt a lot better. Elliott had a bike problem and went out and then I was all over Harri and we went back and forth for the full race – he'd pull a gap and then I'd catch him again. I stayed on him but I just couldn't get within striking distance.

"I made the wrong tyre choice for the second race and went with a Bridgestone soft when I should probably have gone for a medium but I kinda made it work. The Bridgestones have given me a lot of confidence this year and even in race two when I chose the wrong compound I could still challenge for the lead."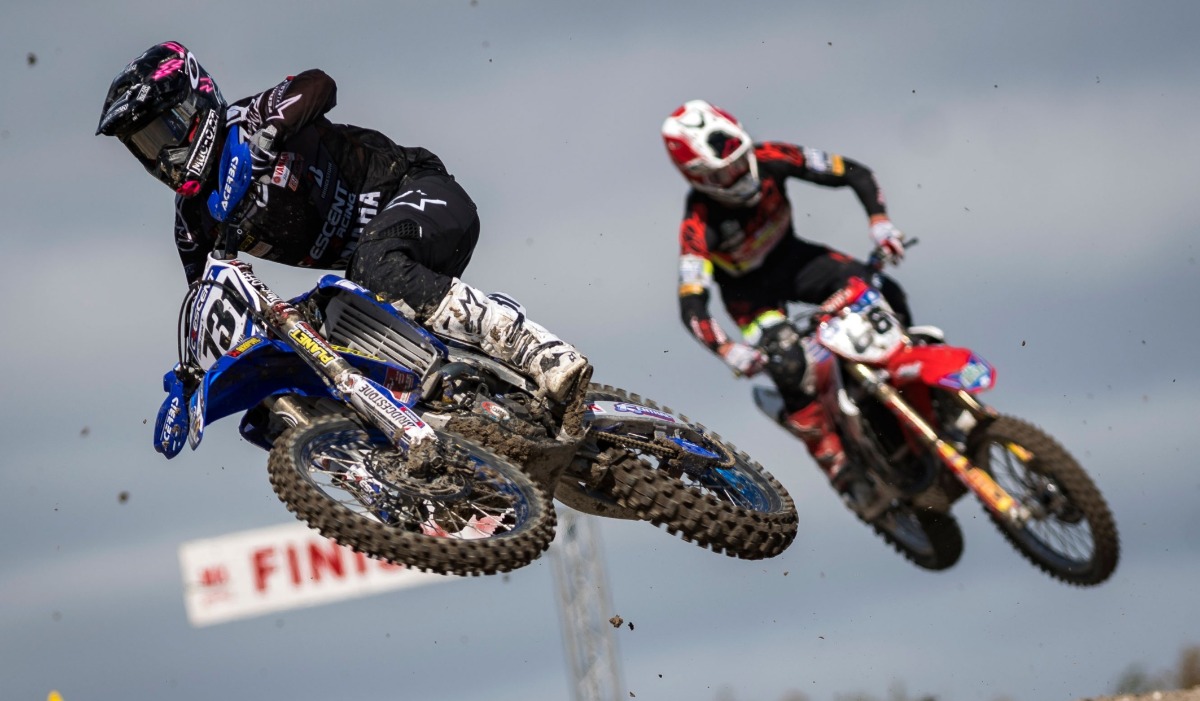 MX1 overall
1 Harri Kullas (Cab Screens Deos Group Racing Honda) 22+25=47
2 Jake Shipton (Crescent Yamaha) 20+22=42
3 Lewis Tombs (Buildbase Honda) 18+20=38
4 Mel Pocock (ASA United KTM) 16+14=30
5 Tony Craig (RHR Yamaha) 11+16=27
MX2 overall
1 Josh Gilbert (Buildbase Honda) 25+25=50
2 Michael Ellis (Pope KTM) 22+20=42
3 Glenn McCormick (Unique Fitout Husqvarna) 16+22=38
4 Martin Barr (Crescent Yamaha) 20+18=38
5 Tom Grimshaw (HCR Apico Yamaha) 18+16=34