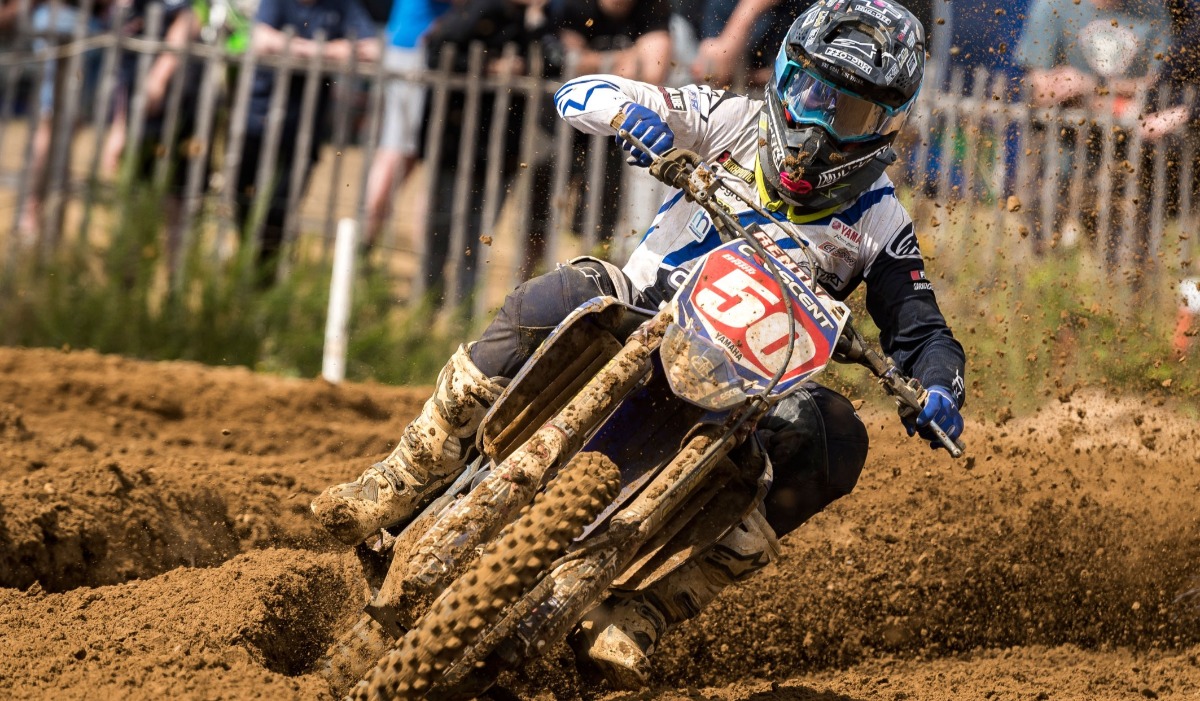 Crescent Yamaha team-mates Martin Barr and Jake Shipton were in action on Sunday at Canada Heights in Kent at the fourth round of the MX Nationals. 
Carrying the series leader's red plate heading into the event, Martin qualified second in MX2 on his YZ250F just over a second behind his main title rival Josh Gilbert. Unfortunately, Jake suffered an early crash in qualification and injured his right wrist but by then he'd already posted the fifth-fastest time in MX1 so he pulled in to receive medical attention. 
The series runs an exciting 'Fastest 40' format which mixes the top 20 from both the MX1 and MX2 classes together in two 25-minute plus two lap motos but scores them separately. I
n the opening moto Jake, with his wrist heavily strapped, started well and was seventh after the opening lap. Gritting his teeth, he then moved up to sixth and was pressurising the riders ahead of him but the pain was too much. Struggling to hold onto his YZ450F, he was forced to back it down and lost places to a handful of MX2 riders but was still sixth in class at the flag. 
Martin struggled against the more powerful 450s out of the gate but was running second in MX2 before being pushed back to third on lap five. Well-known for his fighting spirit, the Irishman never gave up and managed to make a last-lap pass to regain second. 
With Jake opting to head home to get his wrist checked at his local hospital, Martin was the team's sole representative in race two and led the MX2 class in the early stages before losing a place to Gilbert. Continuing to push for the full race distance, he was second in class at the end. 
The result means Martin has lost the series lead to Gilbert but with two rounds to go he's just three points behind. 
Representing the team in the MXY1 class for youth riders on 125cc two-strokes, Bobby Bruce poled Qualification by almost four seconds and comfortably won both motos on Saturday – the first by 20 seconds and the second by 40 seconds. 
Unfortunately, his YZ125 developed a technical problem on the line before the start of Sunday's first moto and he was unable to compete for the rest of the day and as a result has slipped a position to sixth place in the championship.
"It was kinda one of those days and I'm a bit disappointed. Things started off okay and I was second in qualifying but I didn't get the best of starts in race one after a rider came across me just out of the gate so I had a bit of work to do in the first couple of laps.

"I managed to close back up and get to second [in MX2] behind Josh Gilbert but lost my rhythm a bit and Taylor Hammal passed me but I regrouped, started pushing hard and managed to get back by Taylor on the last lap to finish second.

"I got a better start in race two but never got a rhythm going that I was comfortable with and Josh passed me which gave me two seconds for second overall.

"I've lost the red plate but there are still four races to go and 100 points up for grabs so it's not over yet. All-in-all it wasn't a disaster, I'm healthy and I'm going to keep working."
"On the second lap of qualifying I went through the rollers which were wet from where they'd prepped them and had a big high-side by the mechanics' area and jarred my right wrist. It hurt so much I had to pull in but luckily I'd done one fast lap which put me fifth [in MX1].

"I got it iced and taped up and went out for the first one. I got a fairly decent start, made a few passes and got up to Mel Pocock but with five minutes to go I could hardly hold on but I still managed to finish sixth in class which wasn't too bad.

"I've had it checked out and I've got what's called a stage-three sprain and a bruised ulna so a couple of paracetamols at the weekend and I'll be good to go! I might try and ride towards the end of the week and I'm booked in for an ultrasound this afternoon which will help it heal faster."
"I'm gutted. My bike died at the start of race three which was a bummer. Being positive though, I won the first two races and with a pretty good gap as well."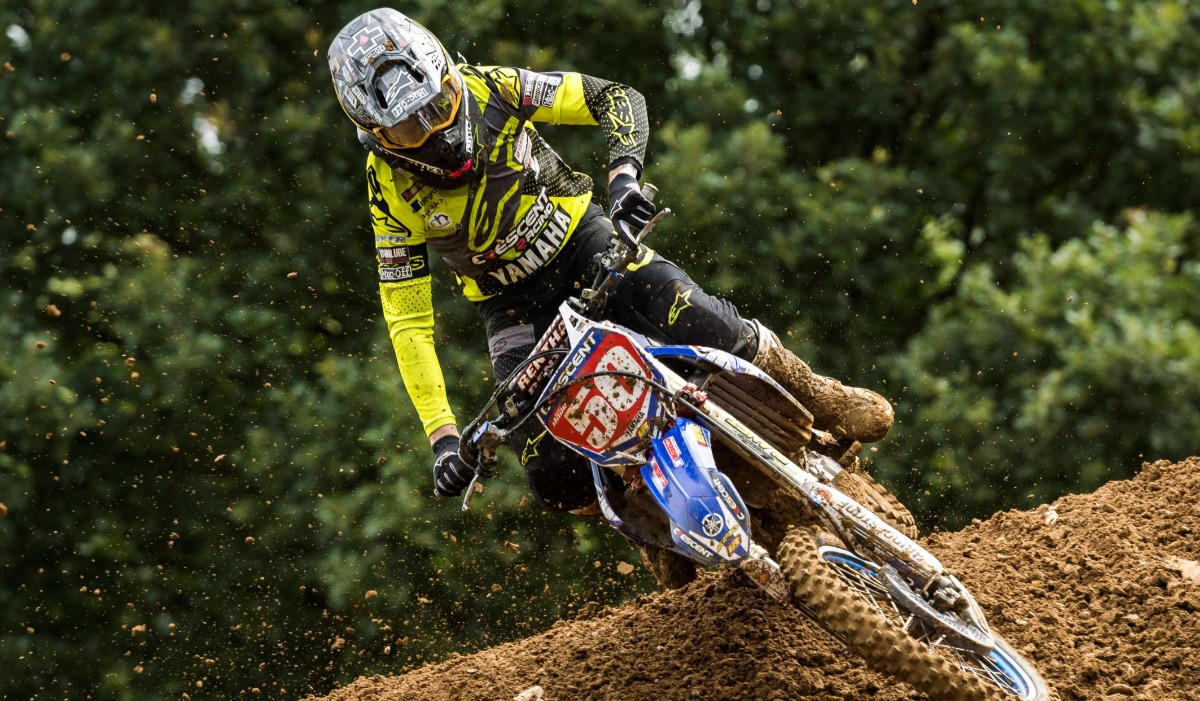 Pro MX1 overall
1 Jake Nicholls (Buildbase Honda) 22+25=47
2 Jake Millward (Chambers Racing Husqvarna) 25+20=45
3 Elliott Banks-Browne (Geartec Husqvarna) 20+22=42
4 Mel Pocock (ASA United KTM) 18+15=33
5 Jason Meara (Norman Watt Kawasaki) 14+18=32
13 Jake Shipton (Crescent Yamaha) 15+0=15
Pro MX2 overall
1 Josh Gilbert (Buildbase Honda) 25+25=50
2 Martin Barr (Crescent Yamaha) 22+22=44
3 Brad Anderson (Verde Substance KTM) 18+18=36
4 Taylor Hammal (RHR Yamaha) 20+16=36
5 Michael Ellis (Pope KTM UK) 15+20=35
MXY1 overall
1 Oliver Beamish (Gold Arts Yamaha) 18+20+25+20=83
2 James Smith (Manchester Husqvarna) 20+16+22+22=80
3 Ryan Mawhinney (REVO Husqvarna UK) 22+22+7+25=76
4 Harry Barker (Moto Connection Husqvarna) 15+18+18+16=67 
5 Ryan Mundell (Mundell Plant Hire KTM) 12+13+20+18=62
9 Bobby Bruce (Crescent Yamaha) 25+25+DNS+DNS=50